---
Tool Manager® DOS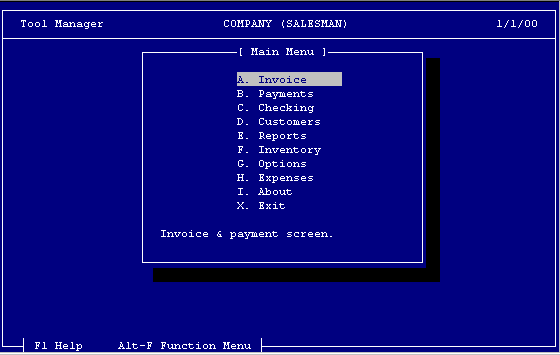 ** Discontinued Product **

Tool Manager (a DOS, Win 3.1, Win 95, Win 98 compatible computer program) is a Point-Of-Sale, Customer Account, and Inventory Management System. Tool Manager is currently in its 10th year as a proven, reliable, product. Tool Manager is ideal for the mobile jobber tool salesman or a mom-and-pop store where customer accounts and inventory sales need to be tracked. Tool Manager includes many traditional tool salesmen features like daily and weekly close-outs, inventory mark-up, warranty, returns, backorder, needs list, and auto finance charging. Tool Manager sells for $449. This price includes:

Customer accounts and inventory conversion from your current program.

Up to 4 Inventory updates for the 1st year from the warehouse of your choice.

One year of Technical support.

Program updates during the 1st year.

Optional $99 annual upgrades include 4 inventory updates, technical support, and the latest Tool Manager version. Tool Manager uses about 5 Meg of hard drive space and runs on DOS, Windows, Windows95, and Windows98. Tool Manager support most printer except Windows Only Printers. To receive a 6 month evaluation copy of Tool Manager, submit the
form
below.
Tool Manager Update
Download the latest
Tool Manager version.
Promote Your Warehouse
Increase your sales by giving your customers your inventory price list on their computers.